Company Name
Contact Info
Location

AKEMSAN AĞAÇ MAK.İML.SAN.TİC.VE PAZ.LTD.ŞTİ.

HANLI MERKEZ MH.D-100 KARAYOLU CD. NO:460 / ARİFİYE / SAKARYA / TÜRKİYE

Web: 

www.akemsan.com.tr

Hall: 11

Stand: 1111A

Product Groups

Log sorting stations
Metal detectors and removers for roundwood
Vertical frame saws
Band resaws
Multiple band saws
Single arbour circular saws for roundwood
Double arbour circular saws for roundwood
Circular saws with freewheeling carriage for roundwood
Circular saws for construction timber
Circular saws with carriage for resawing
Circular resaws
Single arbor edger / rip saw
Double arbor edger / rip saw
Combined vertical-horizontal circular saws
Optimizing board edgers
Cross-cutting saws
Continuous trim saws
Company Info

Products

Represented Companies
AKEMSAN started in a small workshop in 1967 by Saim ERSOYBAŞ. Then, in 1974, By becoming a common Sami ERSOYBAŞ were started to produce wood machines. In the early years the motor- driven fuel oil bucksaw and hand-propelled log carriage were made, over time manufactures developed and manufactured machines that hydraulic system using the latest technologies and the digital control panel of the equipment. AKEMSAN woodworking machinery manufacturing industry is always committed to providing the best service large and medium- scale factories and enterprises timber, box pallets and packaging industry, timber manufacturers since its foundation to the present day. The machines, domestically as well as in many countries abroad AKEMSAN the country's medium size enterprises as well as implement its project established complete systems are also used in Romania,Russia,Ukraine,Georgia,Bulgaria and Guinea Bissau All kinds of log segment is easily done with AKEMSAN digital hydraulic system log carriage and bucksaw. Accurate cutting and higher productivity obtain with a skillful and resourceful operator. Residential projects of machines according to customer requirements prepared by experienced project plan personnel presented the best solution offers. Besides the technical service in this respect AKEMSAN will offers the most suitable machines according to the desired work done. AKEMSAN's other production projects - Remote-controlled Digital Hydraulic System,Scaled Control with 3 or 4 Headblocks Log Carriages -Multiple Spindle Rip Saw -1000,1200,1400mm Vertical Bucksaw -1000,1200mm Hydraulıc Splitting Machine - Hydraulic System Triple Side Planing Machine -Pneumaticks Single Cross-Cut Machines and special woodworking machinery according to customer request.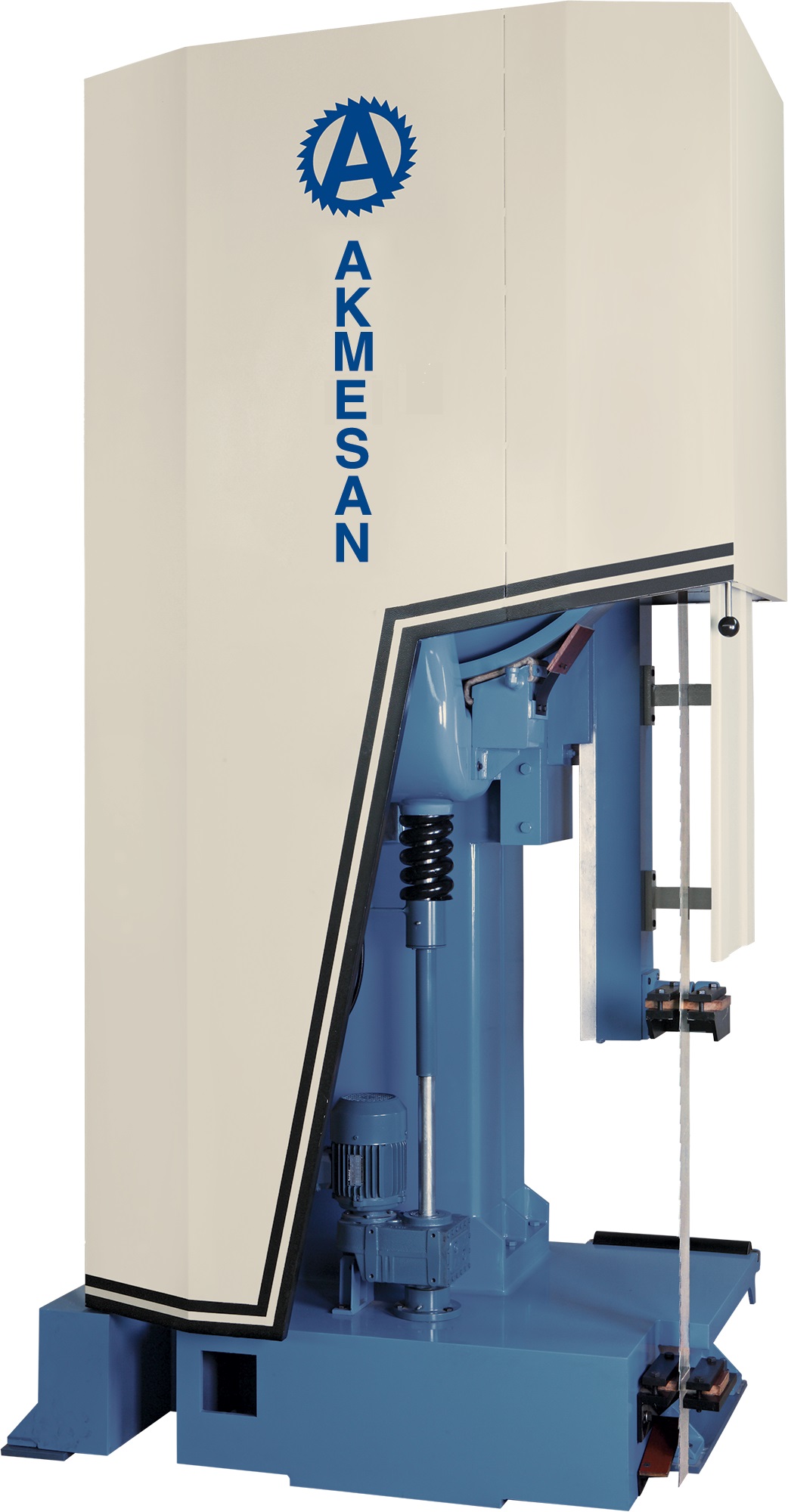 VERTICAL BUCKSAW (BANDSAW) – AE.DGS-120
VERTICAL BUCKSAW (BANDSAW) – AE.DGS-120
PRODUCT DESCRIPTION:
-The main body is steel construction -Flywheels alloy cast iron GG26 -Seal (saw blade) is actuated down-up by hydraulic -Saw for cleaning the fuel oil system (optional automatic) -Saw tensioning is provided in accordance with constant value with hydraulic system. In order to prevent pressure changes that may occur during cutting, pressure value is kept constant value thanks to the feedback system. In this way, prolonging the life of saw blades. -Scriber removes the form of apartment waste which formed out of log and damage in saw the line.
LOG CARRIAGE REMOTE-CONTROLLED - AE.HAOD.3C - (135-UK)
LOG CARRIAGE REMOTE-CONTROLLED - AE.HAOD.3C - (135-UK)
PRODUCT DESCRIPTION:
-To use all the functions can be easily collected from the machine control panel -The ma#1089;hines has special features such as monitoring the cuting and remeining pieces, 30 fixed measures which operator is able to change when he wants and can interfere against measurement faults. -Log holding hooks are actuated with hydraulic cylinders. Capasity of 1250kgs for each twisting cylinder. -Hook rests two different measures. -Headblocks movements gear actuated by reducer (AC inventer). -Log carriage has a hydraulically actuated rope system driving all wheels. 0-75m/d rate of return. Efficiency can be increased by adding various functions in log
MULTI SPINDLE MULTIPLE RIP SAW - AE.ÇDÇM-250
MULTI SPINDLE MULTIPLE RIP SAW - AE.ÇDÇM-250
PRODUCT DESCRIPTION:
-The main body extra steel construction -Cutting feed rate with 3-way hydraulic valve provides stepless speed adjustment -There are 9 attractive ball. Print balls are controlled hydraulically height adjustment -Edition ball treading the miter is controlled hydraulically -Front entrance, air pressure roll - The protective tumbler system for kickback -To give diesel the machine the automatic -Lubrication manual
No represented companies found.